Stepping on the scale in the aftermath of Sundance
"How'd your weekend go? Good?"
My trainer asked me this question at 10 a.m. this morning, right as I was about to step on the scale for my unofficial weekly weigh-in. I didn't quite know how to answer her question.
"It went very well, actually." I said. "Every part but that whole exercise thing."
Sundance was awesome. My old newspaper colleagues and I bagged several movies, including one of the most moving documentaries I've ever seen: "How to Die in Oregon."
But the exercise did not go well. Rather, it did not go at all.
I missed an opportunity to do interval training Thursday. I had intended to spend some time in the afternoon at a 24 Hour Fitness near our hotel, but instead spent it in my hotel bed, trying to catch up on 4 1/2 hours of sleep.
I was awakened from a two-hour, mid-day nap by a phone call saying "Let's go already." Then we were off to two movie sessions and an appointment with Jack Daniels at a nearby piano bar.
Friday wasn't any better. We jumped in our cars and drove 30 minutes to Park City for a morning movie called "Pariah." My friend Katie and I were supposed to catch a ride back to Salt Lake City in the afternoon, where we had planned to hit 24 Hour Fitness together. But I sensed that a special trip just to drive us back would be an inconvenience to the two in our party with cars, so we didn't push it. Our group spent the majority of the day in Park City, caught several more movies and didn't get back to our hotel in Salt Lake City until after midnight. Then we had a date with cabernet sauvignon.
Saturday, same thing. We carpooled to Park City in the morning for a movie called "On the Ice." We didn't get back to Salt Lake City unitl the evening, and by then I felt too tired to hit 24 Hour Fitness. I was behind on sleep, too. I'd been up till 5 in the morning the night before with wine and cheese (of the string variety).
Now I felt like I needed to explain this to Paisley.
"I wanted to work out, but things were kind of out of my control," I told my trainer. "I didn't have my own car and I wasn't the master of my own destiny."
I was stalling before stepping on the scale. I felt like I needed to give Paisley a plausible excuse as to why the scale was about to indicate I'd gained weight. This reunion had been planned for at least six months, long before I committed to the Just Lose It! program. I'd tried to stick to the diet as best I could, be we ate out almost every meal. I'd even picked up some food at the grocery store and kept it in my hotel fridge. I felt really bad that I …
"LET IT GO!" Paisley interrupted.
I was a little surprised by her reaction.
"You need to forgive yourself," Paisley said. "Take a moment if you need to. Now put it behind you and let's move forward."
I stepped on the scale.
And wouldn't you know it, I've lost another 2 pounds: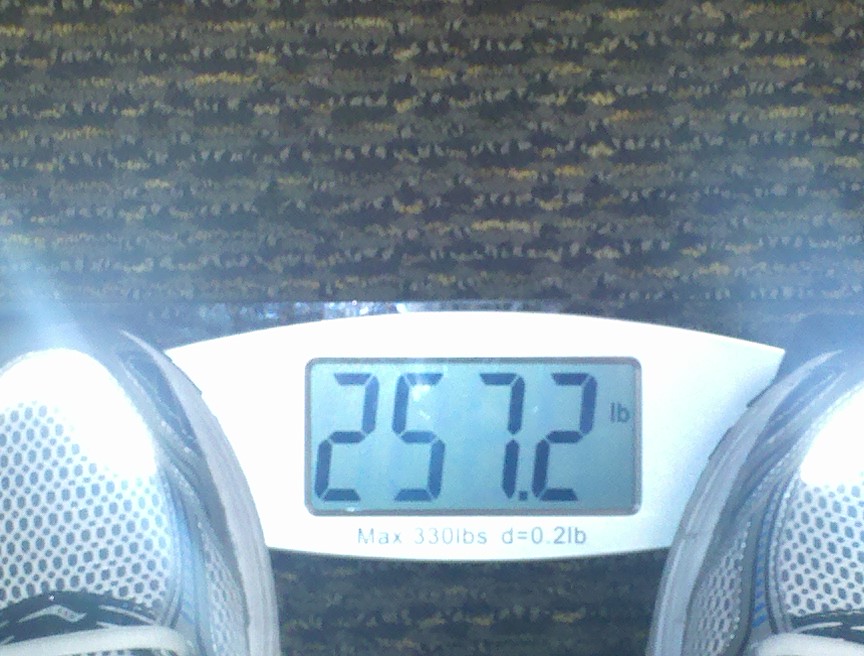 Food Journal:
Today:
Breakfast: Oatmeal with milk and dried cranberries
Snack: Protein shake
Lunch: baked salmon, salad
Snack: Hard-boiled egg
Dinner: Grilled chicken, salad, brown rice
Exercise: Arm Day plus 1 hour brisk walk on treadmill at 4 mph at 2 degree incline
Sunday:
Breakfast: Greek yogurt, banana, low-fat string cheese
Snack: Apple at the Salt Lake City airport
Lunch: Chicken stir fry with brown rice
Dinner: Chicken stir fry with brown rice
Exercise: What do you think?