You can take a guy out of the frat, but not the frat out of the guy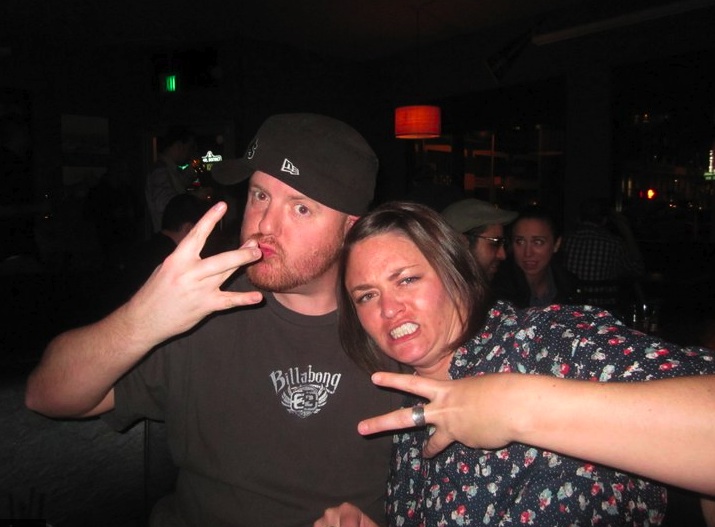 "When you lose this contest, I'll take you out and and buy you a Tic-Tac!"
That's what my trainer, Paisley Ann Meekin, told me this morning. Last week she cut me some slack and told me to forgive myself for straying from my diet and exercise regimen. This morning she was a little less sympathetic
Paisley wasn't serious about taking me out for a Tic-Tac. She was mocking me, my choice of drink and my decision to get wasted this weekend.
"You made a commitment to this program, and to me," she said.
"Yeah, but .. but … but …" I was a little bit whiny this morning. And I felt like shit.
Friday morning things were great.
I weighed myself on my own scale at home and was greeted with 246.4 pounds. That's the lightest weight I've seen on my scale since early 2009. I felt great, too. And I've been feeling thinner — especially in my stomach and my face — and I'm noticing little changes in my body. It seems like dormant muscles are beginning to come back to life. I also have great energy levels and never get tired or drowsy during the day, with the exception of last week's white rice and teriyaki sauce incident.
Friday night things were not so great.
Great, no, not if we're talking diet and excercise. Great, yes, in the context of seeing old friends and spending the evening with two lovely ladies.
My old pal Matt Bagley from grad school was in town for the weekend, and we hit downtown Portland Friday night with my close friend Karli and another fine lady in Lindsey. For some reason, the topic of whether a Tic-Tac really tastes like a Tic-Tac was raised, and several rounds later the four of us were four sheets to the wind and dancing.
Seriously, if I'm out on the dance floor then you know I'm drunk.
The night didn't end when the bars closed. The four of us kept things going well into the night. We went back to Karli's house and continued the party until around 5 a.m.
What followed for me was a 2 1/2-day hangover. I woke up fairly early Saturday, but then slept most of the day until waking up at 8 p.m. I only ate twice and for some stupid reason told myself that Saturday would be Eat Whatever The Fuck You Want Day. I indulged in a meal that has been the death of me: Panda Express. Why? I don't know.
On Sunday I still felt hung over and watched the Super Bowl at my friend's house. I ate only three tiny meals (not the six I'm supposed to eat) and felt like crap. When I looked in the mirror on Sunday the thinning face I'd seen Friday looked puffy, and as I sat on the couch the stomach that had been flattening was now bulging.
Monday morning I still didn't feel right. I decided to weigh myself on my own scale before going to the gym and was shocked by what I saw: 252 pounds.
Did I seriously gain 7.6 pounds in three days !?!?!
I had my head down when I got to the Lloyd Athletic Club to face Paisley. I knew that when I stepped on her scale, I wouldn't like what I saw, and neither would she: 259 pounds.
"I did not take care of myself this weekend," I told Paisley, as I began to list my excuses. "I got hammered Friday night and felt the effects all weekend."
"What did you drink?" Paisley asked.
"Cocktails, some wine and a bunch of Tic-Tacs," I said.
"Tic-Tacs? What the hell is wrong with you?" Paisley said. "What kind of drink is that!"
Even when Paisley is riding my ass, she's hilarious. Weight training would not be so fun if she was all business.
"You can win this contest if you want to," Paisley said. "But you won't if you do what you did this weekend."
Paisley told me during my first consultation not to drink at all during the 10-week Just Lose It! competition. I agreed in principal, but three weeks in I have consumed alcohol at least once every week, always on the weekends. And always with friends.
Hey, I'm fun to be around 🙂
My dilemma right now is whether I want to live my life and have fun with my friends, or just focus on winning the contest.
"You didn't have to drink this weekend," Paisley said. "Or you could have drank and not got totally wasted."
"Yeah, but I was hanging with a friend I hadn't seen in years and two attractive women," I responded.
I don't know if I can cancel socializing for seven more weeks. Truth is, my social calendar is filling up fast. There is even another Vegas weekend planned due to a promise I made to a friend months ago. My birthday is quickly approaching and there's another weekend bash with friends at the beach in mid-March.
I guess you can take a guy out of the frat, but you can't take the frat out of the guy.
Paisley surmised that when I weigh myself in a couple days I'll be back down to the range I saw on Friday. I didn't drink enough water Saturday or Sunday and my body was probably retaining fluids. That's why I felt puffy on Sunday, and appeared to have gained 7.6 pounds in three days.
"Why don't we do our unofficial weigh-ins on Friday," I suggested to Paisley.
"Nope," she said.
Then began Arms Day, and Paisley punished me severely.
Food Journal:
Breakfast: 2 eggs (scrambled) in whole wheat tortilla; handful of walnuts
Snack: Protein shake with banana. One stick of low-fat string cheese.
Lunch: Circle K hot dog without the bun, instead wrapped in a whole wheat tortilla; small apple. One stick of low-fat string cheese.
Snack: Greek yogurt (pomegranate flavor with 12 grams of sugar; Paisley, is this OK?) small apple.
Dinner: Grilled chicken wrap (flour tortilla)