The first rule of Hike Club
The first rule of Hike Club is you do not talk about Hike Club.
My good buddy Brian Yoss and I did a series of hikes in the fall of 2009 and winter of 2010 that we came to call "Hike Club." I think we called it that because when other people heard about our Sunday hikes, some expressed interest in joining us.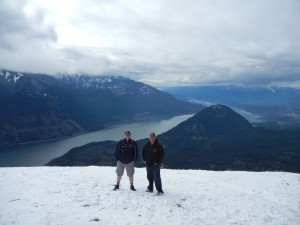 We didn't want anyone slowing us down or whining (or, for that matter, embarrassing us with their hiking superiority), so we decided to keep it between the two of us. We called it Hike Club and agreed not to talk about it in a care to join us? kind of way.
For me, Hike Club was one of my vain efforts to lose weight during the past two years, which will eventually be referred to as The Dark Ages, or maybe The Fat Years. The hiking was awesome, but I didn't do anything else. No diet or exercise of any significance during the week.
Hike Club died a quiet death for various reasons. We're both busy guys. But today something fantastic happened.
Hike Club is back!
I'm using a loophole that's not covered in the fine print to tell you about Hike Club. I'm not allowed to talk about Hike Club — that's the first rule, you know — but there's nothing in the contract that says you can't blog Hike Club!
Yoss and I returned to where we last left Hike Club: Dog Mountain in the Columbia River Gorge.
This was the biggest mother fucker of a hike we ever did. You gain 2,800 feet of elevation. When we last did Dog Mountain, we took the easy way up, which is a gentler slope but you're still unable to get out of the 2,800-foot elevation gain.
In a classic example of how fat I had become, a quarter of the way up I had to borrow Yoss's knife and slice open the legs of my boxers because they were too tight around my fat thighs and humongous balls. The chaffing was horrific.
That hike ruined us a year ago. But today we kicked its ass.
When you are getting in shape the feeling can be intoxicating. Yoss and I took the hard way up this time, and spent the first 3 miles marching virtually straight uphill. We came down this way a year earlier, and as we descended we both acknowledged that we'd never have made it up this way.
About a mile into the hike we came to a junction that had a sign. One way was marked "less difficult" and the other said "more difficult."
We took more difficult, because we are fucking awesome.
I have to hand it to Yoss. He left me in the dust a few times. He's been doing something he refers to as boot camp with a trainer for months. He has slimmed down quite a bit and put on some muscle.
I had the last laugh, though. When we did all these hikes last winter, I always wore shorts and would draw funny looks from other hikers. Today was the first time I have ever done Hike Club with pants and Yoss, strangely, decided this would be the first time he wore shorts.
Well, about a mile and a half up we started to see the snow. And by the time we got to the top there wasn't a bare patch of dirt anywhere. We crossed paths with four hikers at the top who made no secret of how ridiculous Yoss looked in his shorts.
"I didn't know there would be snow up here," Yoss told the group.
"Dude, you do know it's still February don't you?" one of the guys fired back.
So there you have it. This is Hike Club. But don't try to ask me about it later because my lips are sealed. I can blog about Hike Club, but I can't talk about it.
That's the first rule, you know.
Food Journal (click to view):
Breakfast: Scrambled eggs in whole wheat tortilla
Snack: Two whole wheat mini bagels, orange (while on hike)
Lunch: Chicken wrap and vegetarian chili (at Big River Grill in Stevenson, Wash.)
Dinner: Second half of wrap from restaurant, almonds, string cheese
Snack: Power bar